Reaching out
A big part of my role as Hub Manager at Wired Sussex is to support working relationships and to encourage collaboration between our residents in The FuseBox. Community is the one word that comes up most when talking about Coworking spaces and we've come to realise that creating an active network outside of your space is just as important as tending to the ecosystem within it.
So, this year we've been really excited to be working with the British Council to help us talk about our learnings at The FuseBox. We would like to not only help provide other places around the world with the tools and knowledge to develop their own hubs but to also connect and share best practice with existing spaces.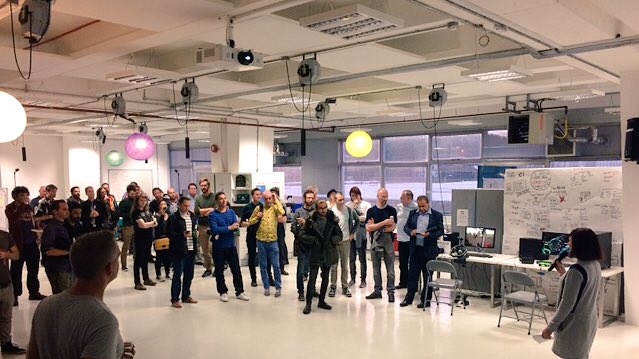 Turkish and UK Exchange
As part of this ongoing work with the British Council, we were contacted back in September about a new exchange programme between Turkish hubs and UK ones. Alongside The Studio, Loughborough University and Impact Birmingham, The FuseBox was invited to host a Turkish Hub Founder/Manager for a week-long residency to share the way we work and to have the opportunity to connect to our network in Brighton.
After an open call and a selection process, we spoke to three fantastic emerging hubs in Turkey and after many interesting conversations, we decided to invite Direnç Erşahin Co-founder at Istasyon TED University Centre for Social Innovation in Ankara. We spotted the most similarities between us and Istasyon and were particular encouraged by Direnç's background and personal interests in Philosophy and Photography. We felt that Brighton, with its strong art culture, could offer Direnç the perfect location for some intrepid city exploring for the week!
During the Exchange
So, between the from 10th to the 17th November 2016, we were delighted to host our Turkish VIP. For the first evening of the residency (and a long day of travelling!) Direnç joined in on a studio field trip. Together we visited new neighbours The Brighton Studio launch, a brand new coworking studio aimed specifically at filmmakers.
The evening proved to be a great kick-start to a string of social and creative outings and over the following week Direnc took part in a Digital Catapult Centre Brighton November Digi Drop-in co-hosted with the University of Brighton, Knowledge Engineering Group. Hosted a Ted Talk Tuesday in The FuseBox with fellow residents. Travelled to Bognor Regis for a Community Check-in for the new creative and digital hub coming to the town and also attended Brighton's Meaning Conference.
On top of these events, we also embarked on several outings and a big thank you to the following organisations for taking the time to have us; Fabrica, The Skiff, Eagle Labs, Donna Close at the University of Brighton, Sussex Innovation Centre and of course, Brighton Beach!
It was a fantastic experience being able to showcase all the amazing things Brighton has to offer. We are looking forward to continuing our conversation around collaboration with Direnç and also creating relationships with more like-minded entities.
Get in Touch
The FuseBox is a hub in Brighton run by and home to independent membership organisation Wired Sussex for digital innovators, tech visionaries and creative technologists. We provide innovators with access to spaces, facilities, opportunities and expertise. We currently house the Brighton Immersive Lab and a 5G testbed.
You can read more on our website here www.thefuseboxbrighton.com Or drop us an email Rosalie@wiredsussex.com.
We would love to hear from you!