As part of our ongoing Talent Talks series, we caught up with some of the team at Make Real to take a look behind-the-scenes to find out what they look for when recruiting new staff. They're currently growing their development team and are looking for some fresh faces to join them, including a Unity Developer!
So, if you're interested in working for award-winning studio that create state-of-the-art immersive experiences, read on...
What do you look for in a prospective employee for your team?
There are a number of factors we take into consideration when looking for prospective employees for the team here at Make Real. Firstly, skill set related to the area of development that they would be working in, mostly design, art and code areas.
For design, we look for candidates with a mix of experience in interaction and learning design; traditional screen-based content has been finely honed over the years to fit a series of patterns and templates that often have to get thrown out of the window when working with or designing for VR and more immersive technologies. However, a solid understanding of UX and some knowledge and understanding of design for immersive experiences is always appreciated. A portfolio of experiments or prototypes would help or a range of blog posts exploring UX for immersive technologies would be beneficial.
We also look for those who have experience of developing traditional eLearning content, as most of our projects are based around learning and development, training and simulation, so whilst the application differs, the terminology and methodologies can still be applied. So, we look to those wishing to break out of the dual-axis nature of screen-based work and want to expand in 360°.
For the creative side, we look for a mix of strengths within 2D and 3D concept art, 3D character art, rigging and animation as well as a strong portfolio of 3D modelling using tools such as 3DSMax, Maya, Blender3D and Cinema4D, with evidence of being able to take the assets from these packages into Unity or Unreal in order to be able to bring them to life within the interactive scenes.
Art also covers UI design, in terms of look, feel and animation, being able to take the interactive design wireframes or greaybox and skin it with the final, on-brand artwork as per the project guidelines or style. Having experience of how information is conveyed in VR and AR is a strength here.
Code covers a range of development and making things work; typically, we work with Unity 3D engine and so strong skills in writing C# code are necessary but this is across the wide gamut of immersion of user interactions with the 3D world space, the frontend, the user avatar and any embodied elements required by the experience to build that sense of presence within.
However, code also covers a range of aspects like networking, to allow more than one user to be present in a virtual space together at one time, or a solid simulation of a real-world asset or system, requiring complex 3D maths and physics coded to replicate realistically what the user needs to be interacting with effectively, with the desired and expected outcomes of correct, and incorrect input/s.
In terms of developing for hardware, we are fairly hardware agnostic as a whole, with the design solution driving the appropriate choice of technology deployed rather than leading decisions, we look for developers who have experience of creating high-performing, optimised experiences for mobile VR (Samsung Gear VR, Oculus Go etc), full VR (Oculus Rift, HTC Vive etc), mobile AR (ARKit, ARCore, Vuforia etc) and mobile AR (Hololens etc). However sometimes the solution will determine that the latest immersive upper scale hardware is not the right solution so we still look for developers with experience of creating 2D and 3D applications for tablet and mobile devices (Android and iOS).
Skill sets aside, we look for candidates with a passion for getting the best out of technology and using its behavioural change and positive impact upon the users.
However, that passion shouldn't mean they burn themselves out and work all hours to deliver; we have a strong belief in a positive work/life balance to ensure that we all have a happy, healthy work approach and life outside, away from the studio and project work. Many of the team have entirely unrelated hobbies, such as playing professional-level classical instruments, beach volleyball, writing, D&D and even lawn-mower racing.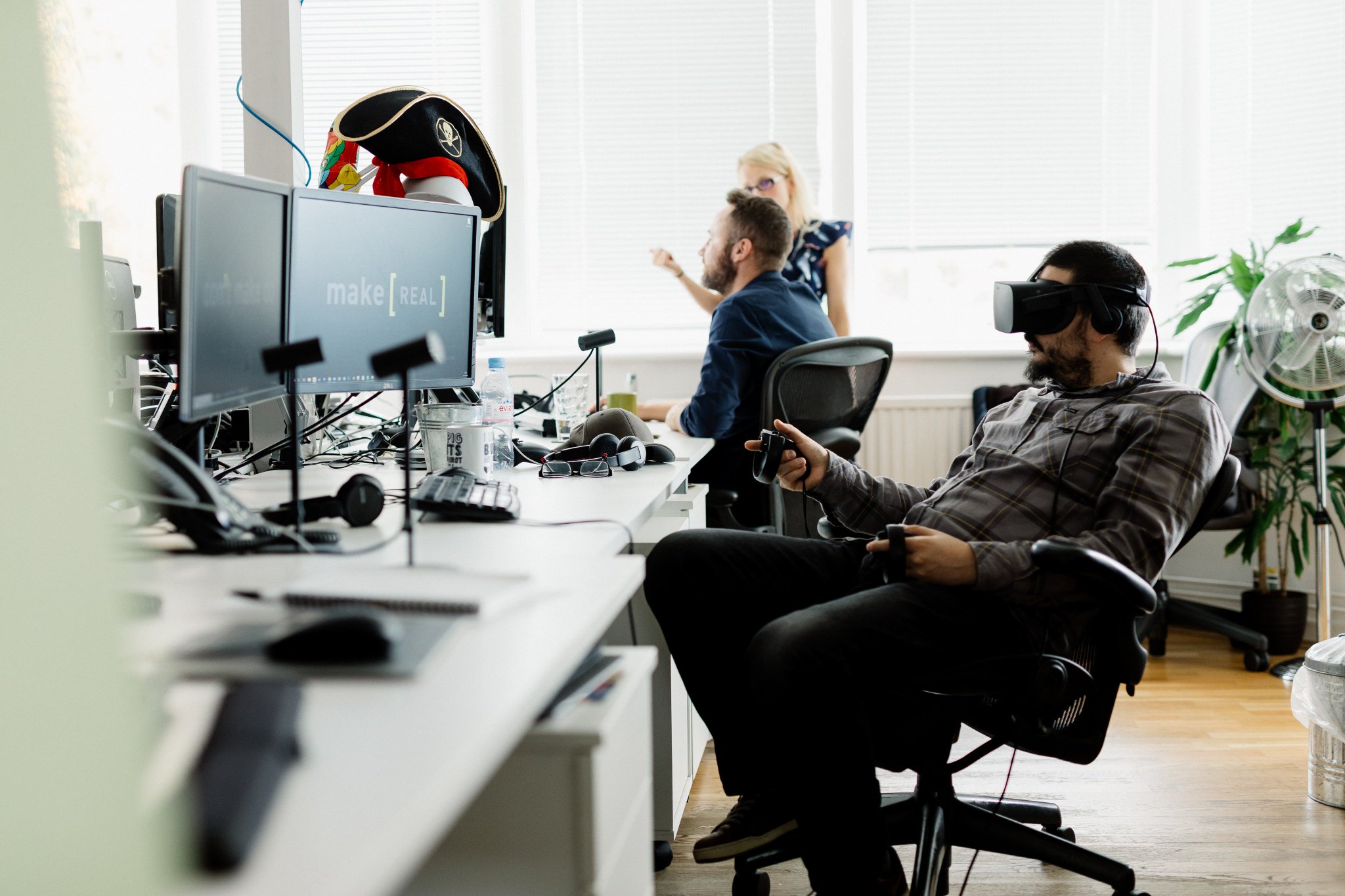 What opportunities are there for someone to develop at Make Real?
Now is a great time to join Make Real, in terms of opportunities to grow in the mid/long-term. Having recently taken some investment into the studio, we are looking to grow the development team in a number of ways
Whilst still carrying out the typical day-to-day project work for clients and partners, we've created a new internal R&D team to start exploring ways Make Real can create own IP products and brands utilising emerging immersive technologies. Whether it be within the growing marketplace for consumer applications and experiences, in- or out-of-home or Off-The-Shelf enterprise training products that offer specialist training content for corporate, education establishments and those looking to expand their skill sets with construction, health & safety, well-being and many other sectors.
So, whilst we have one main development team and the newly formed internal R&D team now, there's likely to be numerous product teams spun out within the studio which will all have their own unique set of challenges, requirements and leadership opportunities.
We offer the ability to attend relevant events to hear from specialists in the fields we operate within, or even be a speaker and present your knowledge to a similarly eager set of eyes and ears. Training budgets are allocated for each person to spend time attending courses or expanding upon specific areas related to their role, present or future, within the relevant immersive sectors.
We have a development mix of senior and junior developers, willing to share and learn from one another.
The senior team have all been at Make Real for 5+ years but have also worked for some of the biggest organisations within the training and simulation, television and gaming sectors. Whilst the seniors can assist with estimates and sensible solutions based upon experience, that's not to say the juniors aren't able to get involved and promote their own thoughts and angles to a particular problem that needs solving.
MEET SOME OF THE TEAM:
What is your position, how would you describe your typical working day?
Emily Kelly, 3D Artist at Make Real
Emily Kelly: As a 3D artist my job involves 3D modelling, making assets from scratch, to working through optimization of 3d design approaches. I work with various technologies including, 3DSMax, Maya, Blender3D and Cinema4D. My workload is very varied, working on briefs ranging from educational projects for construction companies to creating artwork for games.
Even though my job title is 3D artist, every day I am learning from my colleagues. I am surrounded by developers so I routinely learn various methods of coding, and intern they learn how to a bit of 3D modelling along the way. This a real perk of my job, and is something I really enjoy.
[caption id="attachment_8722" align="alignright" width="256"]
Harrison Perry - Developer at Make Real[/caption]
Harrison Perry: I am learning all the time from the rest of the team, be it a new line of code or how to use the 3D shader properly. That said, for a lot of the time, I work with C# code and sometimes have to code in Java.
Every day I work closely with the lead programmer and the rest of the developers on various projects, including our Loco Dojo game and have worked on a number of educational and instructional videos for the construction industry.
What experience or qualifcations do you need for the role?
Emily: I would recommend everyone keep in contact with friends who have the same passion and desire to work in the same industry as you. Many of them will go onto to work in your sector and they really can open doors for you!
Harrison: I fell in love with computers when I was about 12 years and studied a computer science degree, I also set up a short-lived games company with some friends from my course. To be honest, learning to make games took up a lot of my time at university and distracted me from my studies.
How I really got my break was going a 24-hr Oculus Touch Hackathon at The Old Market, as part of Brighton Digital Festival, arranged by Make Real. By chance I met my now boss Sam who was showcasing a product. I spoke to him about my passion for games and immersive technology which then led to him asking to view my work and not long afterwards I was offered a job.
What is the most rewarding part of your job?
Emily: Making something brilliant from scratch is a great feeling.
Harrison: Recognising you are getting better at doing your job, and realising for yourself that you can do it!
If you like the sound of working at Make Real, you can check out all of their latest job roles here.
_________________________________________________________________

If want some extra exposure for your job adverts and to raise your profile amongst job seekers, getting involved with Talent Talks is a great way to do so. Get in touch if you're interested: mia@wiredsussex.com